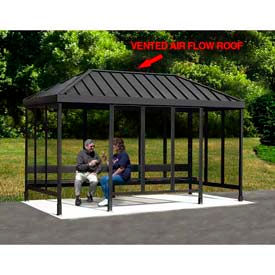 Anodized Aluminum Smoking Shelter With Vented Standing Seam Roof
Anodized Aluminum Smoking Shelter With Vented Standing Seam Roof Is Used For Any Outdoor Smoking Environment For Office Buildings, Campus Universities And More.

Smoking Shelter With Vented Standing Seam Roof framing systems are made of industrial grade standards to withstand years of outdoor use. Smoker shelters are made with clear anodized aluminum finish to provide long lasting durability. Standing Seam roof is made with 11-inch wide, color coordinated Dutch seam aluminum panels over a structural roof frame. Glass panels are made with clear 1/4" thick tempered safety glass.

Shelters provide a designated smoking area outdoors while protecting smokers from extreme weather conditions. Can also be used as bus stops providing an extruded aluminum bench and backrest along the rear wall to offer a comfortable sitting area. Air Flow vented roof helps to reduce smoke build-up as well as reduce OSHA fines and decrease insurance premiums. Outdoor shelters are pre-fabricated in sections for easy assembly and low cost shipping. Available types include Three-Sided Shelters with Open Front, Four Sided Shelters with Open Left & Right Front Opening, and Four Sided Shelters with Left Front Opening. Custom designs and sizes available. Capacities range from 3-4 people to 15-18 people. Available colors are Clear Anodized or Dark Bronze Anodized. All models are ADA compliant. Dimensions vary per model.