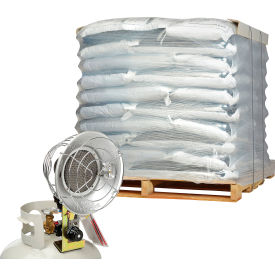 Fast Acting Ice Melt And Free Tank Top Heater
Free LP Tank Top Heater + 1 Pallet (50 Bags) Ice Melt Blend Fast Acting Pellets 50 Lb/Bag -15°F

This ice melt is designed to prevent the accumulation of snow in various outdoor environments including driveways, walkways, sidewalks, and other high traffic areas. The solution includes a combination of calcium chloride, magnesium chloride, and sodium chloride pellets which expedite the melting process for temperatures down to -15°F. Safe for use on concrete and vegetation. Includes 1 pallet of 50 bags. Ice melt pallet purchase includes a free single tank top heater for convenient spot heating. Heater includes an adjustable angle feature that directs up to 15,000 BTU's in a 15' radius. Propane tank not included.