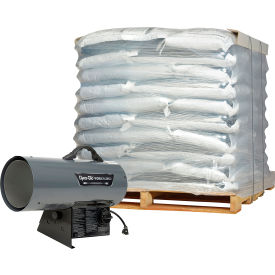 High Performance Ice Melter And Free Lp Heater
Free LP Heater + 1 Pallet (50 Bags) High Performance Ice Melt Blend Pellets 50 Lbs./Bag -25°F

These ice melt pellets are designed to efficiently melt and prevent the accumulation of ice and snow in various outdoor areas including driveways, walkways, sidewalks, and other high traffic locations. The solution quickly penetrates frozen surfaces faster than rock salt and ice melters expediting the melting process for temperatures as low as -25°F. Safe for use on concrete and vegetation with no powdery residue. Includes 1 pallet of 50 bags. Ice melt pallet purchase includes a free portable propane gas fired heater for convenient, high powered spot heating. Heater includes an adjustable angle feature that directs 40,000 BTU's to areas up to 1000 square feet. LP tank sold separately.