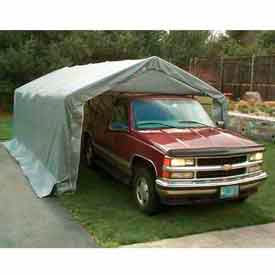 Instant One-Car Garages
Instant One-Car Garages Protect Projects, Equipment, Vehicles And More From The Weather.

Instant One-Car Garages are designed for temporary and easy assembly wherever outdoor storage is needed. Rugged, fire-retardant Ripstop fabric-backed polyethylene cover is assembled with heat welded seams for long lasting protection. Anchoring system supports ensure the durable galvanized steel frame will withstand the elements. Pre-drilled, bolt-together set up requires minimal tools. Zippered openings at both ends can be held open to drive vehicles through. Available storage capacities range from 847 to 1848 cubic feet. Roof styles are Round and Peak. Canopy colors are Gray, Green, and Tan. Dimensions vary per model.