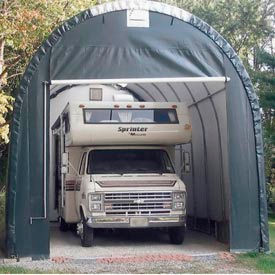 SolarGuard™ Storage Master Buildings
SolarGuard Round Style Storage Buildings Are Used For On-Site Vehicle And Equipment Protection And Storage.

SolarGuard Round Style Storage Buildings are made ofGatorshield structural steel tube frame for long-lasting durability. They feature a24 mil premium weatherproof cover for improved longevity and weather resistance. Storage buildings can store boats, trucks, RVs, tractors and other vehicles or can double as a workspace. They featureone solid end and one double-zippered end for improved accessibility. Dimensions and sizes vary per model. Available colors areGray, Green, Tan and White.