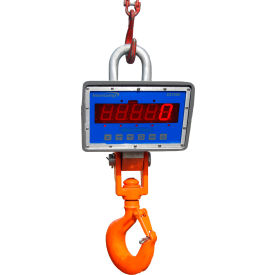 Intercomp Hanging & Crane Scales
Intercomp Hanging and Crane Scales Provide General Purpose Weighing Measurements of Various Load Sizes In Need of Lifting.

Intercomp crane scales lift subjects by their designated handle to efficiently measure their weight. Large, easy-to-read, display offers easy to read weight indication results. Wireless weighing technology enables cord-free operation. Select units feature infrared remote control functionality. Maximum weight capacity by pounds is 20,000. Maximum weight capacity by kilograms is 10,000. Units are battery operated. Additional specifications vary per model.