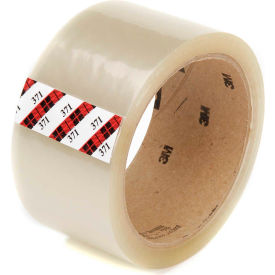 Carton Sealing Tape - Hot Melt
Economy Hot Melt Packaging Tape is used on Boxes up to 50 lbs. in Weight.
Economy Hot Melt Synthetic Rubber Resin is ideal for sealing boxes in temperatures between 45 - 120 degrees. These rubber-based tapes have good clarity and resist yellowing in most applications. Here are a few things you need to consider to choose the right tape.
Tape Mil:
When choosing the right Mil for tape you need to look at what you are sealing. Consider the weight of the box and contents as well as the size of the box. For lightweight packages under 15 lbs., a 1.6 - 1.9 mil tape will do the job. Boxes between 15 - 35 lbs are best sealed with 2 – 2.2 mil tape. Use 2.1 mil - 2.9 mil on boxes between 35 - 50 lbs.
Tape Width:
The width of the tape you select is going to depend on the width of the box you are sealing. The ideal width for a box under 15" wide is the 2" wide tape. For boxes over 15" wide, choose the wider 3" style. This will improve the sealing of the box without waste. Ideally a single piece of tape should secure the contents of the box.
Tape Length:
Packing tape comes in a number of lengths. The most common are 55 yard and 110 yard rolls. These are ideal for hand packing of boxes and are easily used with universal tape guns to make the application easier. Shorter rolls are best used when package sealing is less frequent - keeping the weight of the gun a little less and avoiding tape waste with a longer roll.
Tape Color:
While the color of tape has no functional impact it does impact the presentation to your customer. In most instances, Clear or Tan are the preferred color choice as this will blend into the packaging and present nicely to your customer. Dimensions, color, and quantities vary per model.
Strong Adhesion to both New and Recycled Corrugated
Good Temperature Range: 45 – 120 Degrees
Good Clarity