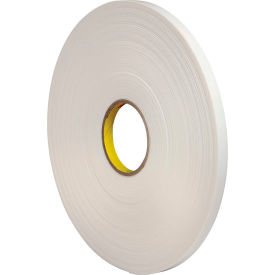 3M™ Double Sided Foam Tape - Single Rolls
3M™ Double Sided Foam Tape Provides Firm Adhesion For Applications Including Painting, Construction, Maintenance, and more.

3M™ double sided foam tape is designed for lasting support and temperature endurance for indoor, light duty applications. Double sided, high-tack adhesive provides optimal bonding and application versatility. Flexible design conforms to almost any surface. Sold in single roll package quantities. Colors are Natural and White. Thickness range is 1/32 – 1/4". Width range is 1/2 – 2". Additional specifications vary per model. Sold as single rolls.