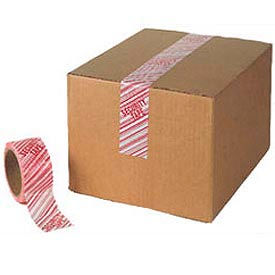 Printed Security Carton Sealing Tape
Printed Security Carton Sealing Tape Improves Package Security for Various Applications Including Distribution, Commercial, Industrial, and more.
Tamper evident design
Polypropylene construction
Highly adhesive
Available in different text options
Rolls per case are 6, 18, 24, and 36
This printed security carton sealing tape is designed to prevent the theft of electronics, medical supplies, industrial equipment, and other high value items. The
tamper evident tape design
identifies once a package has been opened with warnings and misaligned designs that cannot be realigned. The
polypropylene construction
is resistant to chemicals, moisture, impact, and other abrasives for lasting durability through harsh conditions. The tape is
highly adhesive
providing strong holding power to recycled paper liner, fiberboard, and other packaging materials. The multiple
text options
communicate handling instructions while securing your items eliminating the need for labels. Colors vary per model.