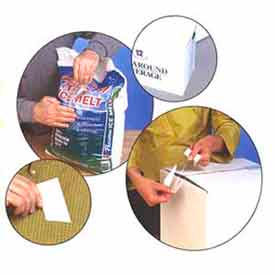 Pocket Tape Pads
Pocket Tape Pads are Portable and Convenient for Easy Repairs of Damaged Packaging.
Tapes are made of polypropylene with a rubber adhesive for strong bond
Pocket tapes available in 2" x 6" and 4" x 6"
Packaging tapes available in 2" x 6"
Pocket tape pads
are high performing 3 mil tape pads with 25 strips of easily applied tape.
Packaging tapes
have a rubber resin adhesive for strong bonding. Pre-cut and padded tape sheets have a removable paper tab for ease of use. Ideal for
protecting labels, sealing envelopes, small packages, recouperage repair, and other packaging applications.
Sold in package quantities of 20, 50, and 200.