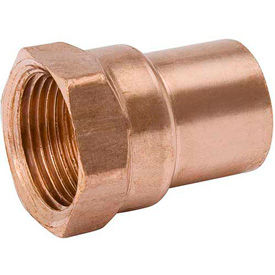 Adapter Copper Elbow Fittings
Adapter Copper Elbow Fittings Accommodate Supply And Pressurized Systems For Applications Including Residential, Commercial, Industrial, And More.

Adapter copper fittings are made of wrot copper for long lasting durability and corrosion resistance. Fittings are designed for above-ground potable water supply systems such as drinking fountains, fire sprinklers, and more. Units are used for adapting a solder connection to a threaded connection. Types are Female Adapter, Fitting Adapter, and Male Adapter. Connection types are Copper x FPT, Copper x Male Adapter, Street x FPT, and Street x MPT. Package quantities range from 2 to 200. Meets ASME and NSF standards. Dimensions vary per model.