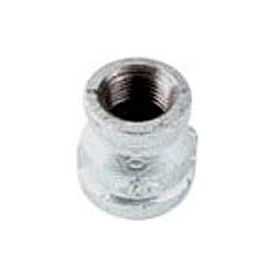 Reducer Coupling Galvanized Malleable
Galvanized Malleable Steel Reducer Couplings Are Used For A Variety Of Plumbing And Pipe Fitting Applications.

Galvanized Malleable Steel Reducer Couplings are made of Standard Class 150 Galvanized Malleable Steel for long lasting durability and dependability. Used for connecting pipes of two different sizes. Galvanized Malleable Steel corrosion resistant properties make it useful for a variety of plumbing applications. Safe for use with potable water applications. Wide selection of Domestic and Imported reducer couplings are available in various combinations of 1/8, 1/4, 3/8, 1/2, 3/4, 1, 1-1/4, 1-1/2, 2, 2-1/2, 3 and 4 inch diameter sizes with 150 PSI rating.