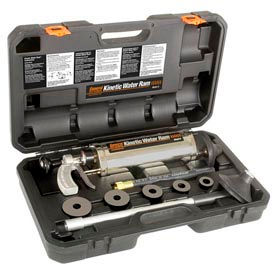 General Pipe Cleaners Kinetic Water Ram™
General Pipe Cleaners Kinetic Water Ram™ Opens Up Clogged Pipes with a Shock Action Pump.

Compact, lightweight tool offers quick opening of clogged sinks, toilets and tubs. Handles rust, grease, sediment and scale in lines up to 4" in diameter. This hand tool pipe cleaner uses a burst of compressed air to drive a shock wave of kinetic energy through the water to break up stoppage. This shock wave travels around bends without losing its force. Self-contained pump, built-in air compressor and pressure gauge help hit stoppage with just the right force. Made using a 16 gauge perforated cylinder tested for up to 600 lbs. of pressure. 100 lb. gearless pressure gauge provides pinpoint pressure control. Schraeder valve allows use with external air compressor when clearing difficult stoppages. 1 Year Limited Warranty.