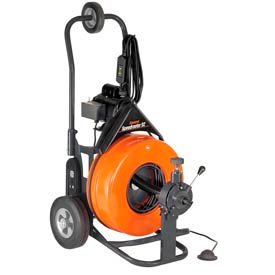 General Wire Drum Machines
General Wire Drum Machines Are Used For Small Drains, Inside Work And On Roofs.

General Wire Drum Machines have tubular steel handles for long lasting durability and truck loading wheels for easy transportation. V-belt nylon rollers and stair climbing 10" semi-pneumatic wheels provide easy mobility, even up and down stairs. Flexicore® cable is built with an integral 49-strand aircraft-type wire rope center and heavy gauge wire coiled around. Foot pedal operation leaves operator's hands free to control cable. Used on pipes 1-1/4 - 3, Most 4, 2 to 10 and 3 to 10. Heavy duty 1/2 HP capacitor-start motor features overheat protection for safety, forward and reverse switch provides full operational control. Power cable feed has varying speed when working through tough stoppages. Includes leather gloves with double-reinforced palm for protection when guiding cable. Allows easy drum removal and replacement. Includes GFCI-protected power cord. Some models include cable and cutter set. Available in Drain-Rooter, Maxi-Rooter, The Metro, Mini-Rooter, Sewer-Rooter and Speed-Rooter. 1 Year Limited Warranty.