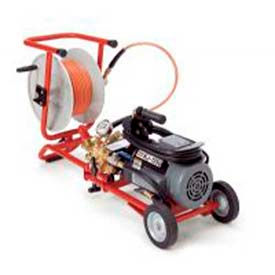 RIDGID® Water Jetters
RIDGID® Water Jetters Are Used For Clearing Sludge, Soap Or Grease Blockages In Drain Lines.

RIDGID® Water Jetters are solidly made for long lasting durability and dependability. Propel highly flexible hose through drain lines for blasting through sludge, soap and grease blockages. As hose is pulled back it power scrubs the line, restoring it to free-flowing capacity. Upright or Horizontal cart designed units securely hold jetter assembly and cable roll in sturdy steel frame. Include wheels for easy mobility and transport. Various Gas or Electric powered units with 1.5, 2, 6.5 or 16 horsepower are available with 1/8, 1/4 and 3/8 inch hose diameters and 25, 50 or 100 ft. lengths for use with 1-1/4 to 4, 1-1/4 to 6, 1-1/4 to 6 inch and 2 to 10 inch pipe sizes.