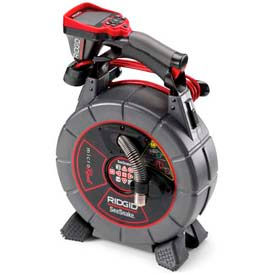 Ridgid SeeSnake Video Inspection Reels & Systems
Ridgid SeeSnake Video Reels And Systems Are Designed For A Wide Range Of Pipe Inspection Needs.

Ridgid SeeSnake Video Reels And Systems are built tough for long lasting durability and strength. Used for when portability and maneuverability are crucial, such as in multi-story buildings, rooftops, confined areas and more. Reliable illumination and a rugged camera provide excellent visibility of pipes. Choose from models designed for Industrial, Lateral Drain Lines, Main Drain Lines or Toilet And Sink Lines for increased versatility. Types include Camera System, Color Compact System, Color Reel, Inspection System, MicroReel, Mini Color Reel and Self Leveling Color Reel. Dimensions, cable length, pipe size and video resolution vary per model.