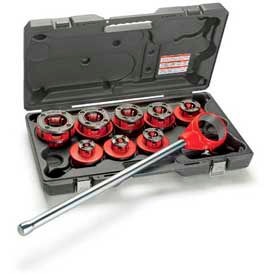 Ridgid® Manual Threaders
Ridgid® Manual Threaders Are Designed for A Variety Of Pipe Threading Applications.

Ridgid® Manual Threaders are made of high quality materials for long lasting durability. Variety of types available to meet job requirements and specifications. Used for assembly, repair and installation applications. Available individually or in sets. Sets include die heads, ratchet assembly, handle and carrying case. Types are Manual Ratchet Threader and Manual Receding Threaders. Available in a variety of type series and pipe/threading capacities. Package quantity is 1.