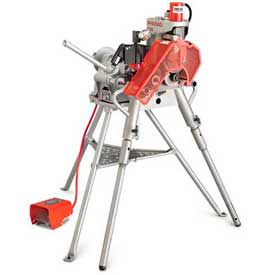 Ridgid® Roll Groovers
Ridgid® Roll Groovers Are Used For A Variety Of Pipe Threading And Grooving Applications.

Ridgid® Roll Groovers are made of durable cast iron housings and other high quality materials for long lasting durability. Variety of types available to meet job requirements and specifications. Available individually or in sets. Types are Combo Roll Groover, Drive/Groove Roll Set, Roll Groover, Roll Groover w/535 Carriage Mount Kit, Roll Groover Set, Roll Groover Set w/Carry Case and Roll Groover w/Roll Sets. Series types are 915, 916, 918, 918-5, 918-1, 920 and 975. Pre/tube sizes vary per type. Package quantity is 1.