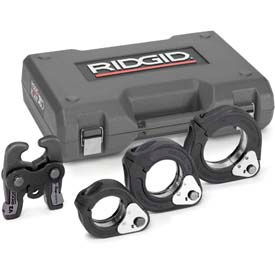 Ridgid Standard Series Press Rings
Ridgid Standard Series Press Rings For Copper And Stainless Fittings Permit Access In Tight Plumbing Spaces.

Ridgid Standard Series Press Rings are made of high quality materials for long lasting durability and dependability. Available with or without actuator and case. Designed in conjunction with ProPress System fittings ensuring total system compatibility. Patented ring design allows pressed connections for 2 1/2 in. to 4 in. copper tube. XL-C rings include patented swiveling feature allowing tool to connect to ring at any angle relative to tubing for greater access in tight spaces. Compatible only with RIDGID Standard Series pressing tools (CT-400, 320-E, RP 330-B, RP 330-C, or RP 340). Additional plumbing and pressing tools available. Types are Rings/Actuator/Case and Press Ring. Color finish is Black. Dimensions vary per type. Package quantity is 1. Full RIDGID Lifetime Warranty.