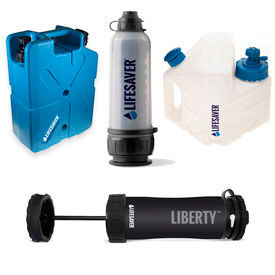 Portable Filtration Systems
Portable Filtration Systems Ensure Clean Drinking Water For Mountain Climbing, Camping, Expeditions, and Other Traveling Environments.
These portable filtration systems are designed to remove viruses, bacteria, cysts, and parasites making water clean and safe to drink regardless of your location. The replaceable filter technology eliminates chlorine and odor and filters up to 18.5L of water. Most models are compact and lightweight making them easy to carry and transport. Colors vary per model. NSF certified.
Replaceable filters
Compact and lightweight design
Available styles are Portable Water Filter Bottle w/ Inline Pump, Portable Water Filter Cub, Portable Water Filter Bottle, and Portable Water Filter Jerrycan
Capacities range from 400 mL to 18.5L