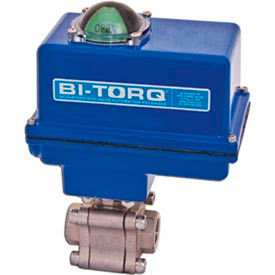 BI-TORQ Automated Ball Valve Sizes 1/4" to 3/4"
BI-TORQ® 3-Piece SS NPT Automated Fire Safe Ball Valves Have A High Performance Seat Design.

BI-TORQ® Automated Ball Valves are suited for many operations, including chemical, industrial, irrigation, pool, and spa applications. Valves sizes are 1/4, 3/8, 1/2 and 3/4 inches. 3-piece design allows for easy maintenance without moving the end pieces from the pipeline. ISO mounting pads are topped with either an electric or a pneumatic actuator. Fire Safe Ball Valve has a pressure rating to 2000 PSI and a temperature rating from -40°F to +450°F. All Fire Safe valves have graphoil seals to meet fire safe certification. TFE, RTFE, Delrin, PEEK, and TFM seats are available. Fire Safe Ball Valves are API 607 fire safe certified. End connections are Clamp, Flanged, NPT, Socket and Tri-Clamp.