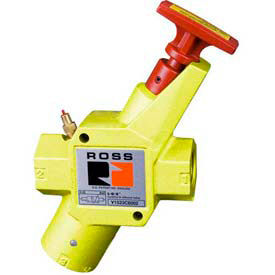 ROSS® 3-Way Pneumatic Lockout Valves
ROSS® 3-Way Pneumatic Lockout Valves Are Designed For Use With Pneumatic Drop Legs Or Individual Pneumatic Control Lines During Maintenance And Service Procedures.

ROSS® 3-Way Pneumatic Lockout Valves are made of a die-cast aluminum valve body for long lasting durability. Features large ports that provide rapid exhaust for optimal performance. Includes pressure sensing device port for increased versatility. Body is yellow for high visibility and added safety. Inline or surface mounted for ease of use. Female thread. Ambient operating temperature is 40°F to 174°F. Port threads are BSPP or NPT. Inlet pressures and port sizes vary per model. Stainless Steel Lockout Valves are made with 316 stainless steel for enhanced reliability. Corrosion-resistant for confident use. Visual Pop-Up Pressure Indicator provides a means to visually verify the release of downstream pressure at the manual lockout and exhaust valve to next obstruction. Male thread. Inlet pressure is 0 to 300 psig.