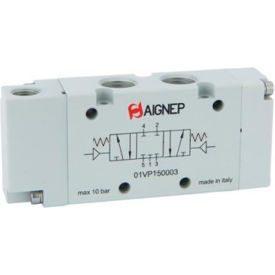 Pneumatic Pilot Valves
Pneumatic Pilot Valves Accommodate Pneumatic Control Systems and Similar Applications.

Pneumatic Pilot Valves provide high quality control solution for pneumatic cylinders, components and other operations. Ideal for filtered and lubricated or non-lubricated compressed air. Select unit valves are offered in convenient combo packages that include the valve, solenoid, and a connector. Available Port Sizes are 1/2", 1/4", and 1/8". Available Thread Types are BSPP and NPT depending on the model. Most units operate up to 145 psi working pressure. Each unit is comprised of anodized and painted aluminum, where the spool is chemical nickel plated steel. Additional specifications vary per model.