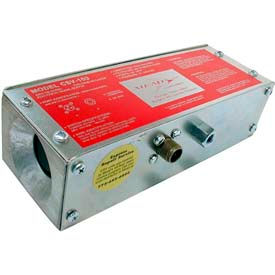 OSHA / Safety Valves
Mead Anti-Tiedown Touch Control Systems Ensure Safe Operation Of Air Presses, Drill Fixtures, Light Assembly Equipment And More.

Mead Anti-Tiedown Touch Control Systems are available in several varieties. CSV-101, CSV-101LS, CSV-102 CSV-102LS and CSV-103 models have compact and completely self-contained controls, recessed actuation buttons built on the ends and a universal mount for convenient positioning. CSV-101W and CSV-102W are made for use in a wash-down environment, with logic circuitry housed in a fiberglass industrial control panel enclosure for resistance to chemicals and corrosion. CSV-107 models are made to acutate 3 or 4 way piloted spring return power valves, or directly power smaller single-acting cylinders. CSV-107 LS1 and CSV-107 LS2 models are low-stress valve models. Push-to-connect fittings are included on all pneumatic models.