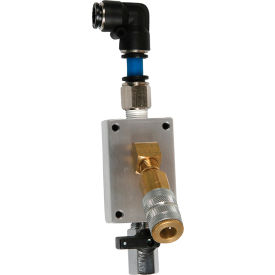 Rapidair Compressed Air Piping and Tubing Fittings & Accessories
Rapidair Compressed Air Piping And Tubing Fittings And Accessories Are Used For Applications Including Automotive, Industrial, Manufacturing, And More.

Rapidair compressed air piping and tubing fittings and accessories are made of high quality materials for long lasting durability and dependability. Reducing tee is designed to create a connection for compression piping. Elbow fitting compression style allows convenient and efficient connections. Includes female NPT outlet ports and bottom moisture drain. No glue, soldering, or crimping required. PSIs are 150, 175, 190, and 200. Dimensions vary per model.