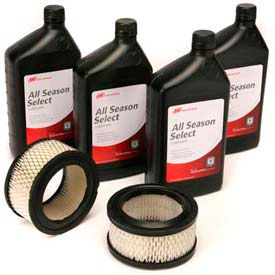 Compressor Oil, Start Up & Install Kits
Compressor Oil, Start Up and Install Kits Maintain Upkeep of Various Air Compressors and Dryers for Automotive Garages, Industrial Plants, Factories, and more.

These units serve a variety of maintenance functions. Compressor Oil is available in gallon and quart sizes in synthetic and non-synthetic varieties. Start Up Kits, Service Kits, Maintenance Kits, Install Kits, Check Valves, Air Filters,Vibration Isolation Pads and more are available for a variety of compressor models from several trusted brand names. Additional vibration isolation pads sold separately.