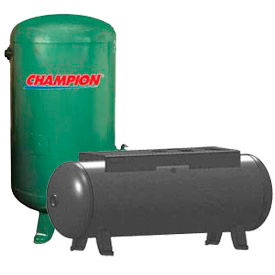 Air Compressor Tanks
Air Compressor Tanks Safely Store Compressed Air For Filling Tires, Cleaning Projects And More.

Air Compressor Tanks are made with steel and a gray powder paint finish for long-lasting durability. Designed for point-of-sale air storage and providing compressed air for short, peak demand applications. Offers multiple openings and NPT thread sizes. Plugs included in all openings. Built in accordance with ASME Code Section VIII (except 2 and 3 gallon models). National Board Registered. Available with Horizontal or Vertical tank orientation. Storage capacities range from 2 to 400 gallons. Maximum air pressures are 150, 175, and 200 PSI. Dimensions vary per model.