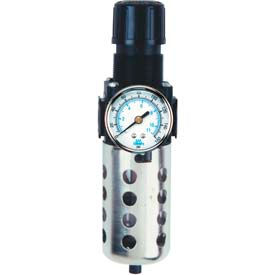 Arrow Modular Flow FRL Combinations
Arrow Modular Flow FRL Combinations Are Designed For Pressure Regulation Applications.

Arrow modular flow frl combinations are constructed of Aluminum, Glass Filled Nylon, Metal with Sight, Poly, Zinc or Zinc with poly bowl to provide lasting durability. Available styles include Lubricator, Filter/Regulator, FRL, Integral Filter/Regulator - w/float drain and t-handle or with gauge, MidFlow and Mini Regulator and more. NPTs range is 1/8" - 1". PSI, Temperature range, and other dimensions vary per model.