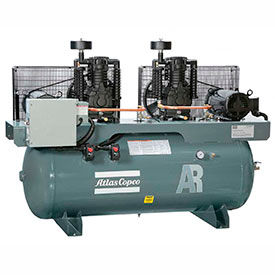 Duplex Air Compressors - 3 Phase
Duplex Air Compressors - 3 Phase Provide High Quality Use In Commercial And Industrial Applications.

Duplex Air Compressors are made of aluminum, cast iron and steel for long-lasting durability. Two individual compressor pumps and motors mounted on a single air receiver provide a built-in backup compressor that can run independently or together to avoid unexpected downtime or increase output. Compressors feature deluxe UL listed control panel with single point connection and includes two magnetic starters, alternator, ON/OFF switch and hour meters. Duplex Pro Air Compressors offer dual pump configuration for more efficient cooling and longer compressor life. Heavy duty inlet filter silencer provides lower sound levels. Two-Stage compressors feature gasket-less designed integral cylinder/head, vibration isolators, and electric automatic tank drain. Available horsepower is 2, 5, 7.5, 10, 15, 20, 25, and 30. Tank orientation is Horizontal. Maximum PSI is 100 and 175. Tank sizes are 17, 120, 200, and 240 Gallons. Phase is 3. Dimensions, voltage, and CFMs vary per model.