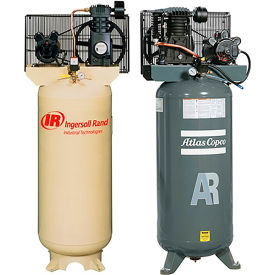 Single-Stage Vertical Air Compressors
Single-Stage Vertical Air Compressors Support Light Duty Air Tools and Equipment For Automotive, DIY, Woodwork, and Other Applications.

The vertical design saves space for small areas including shops, garages, and more. The compressor motor operates at low RPMs creating less wear, noise, and unit vibration. The cast iron and aluminum construction makes these units both strong and dependable for lasting reliability. Available in splash lubricated or oil free pump types for maintenance ease. HP and dimensions vary per model.