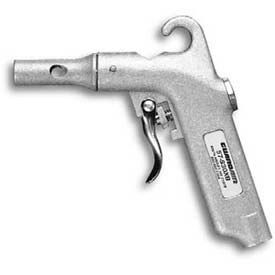 GuardAir Classic+™ Air Guns
GuardAir Classic+™ Air Guns Provide High Pressure Air Maintenance for Automotive Garages, Manufacturing Plants, Factories, and more.

These air guns are designed for cleaning inaccessible and hard-to-reach areas for user convenience. The cast aluminum body ensures strength and durability for years of reliable service. The wide trigger provides added comfort for long term working environments. The hanging hook provides convenient, out of the way unit storage. Includes a precision air volume control for reduced work resonance. Available descriptions include Air Gun, Long John Safety Air Gun, Safety Air Gun, and more. Air usage (SCFM) ranges from 22 to 54. PSIs are 100, 120, and NA. Noise outputs (DBA) are 99, 102, 104, 108, and 109. Thrust (LBF) ranges from 0.2 to 2.8. Meets OSHA standards. Dimensions vary per model.