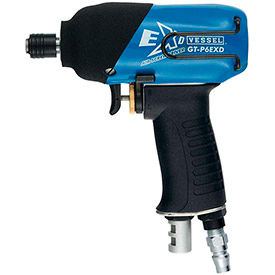 VESSEL® Oil-Xtra Air Wrenches & Screwdrivers
Vessel® Oil-Xtra Air Wrenches and Screwdrivers Provide Impact Maintenance For Construction, Machine Shop Environments, and more.

Vessel® Oil-Xtra air wrenches and screwdrivers tighten or loosen fasteners with minimal vibration and noise. Ergonomic grip provides user comfort and prevents fatigue. Select units feature a 360° free-turn silencer and rear exhaust to reduce high noise levels. Additional specifications vary per model.