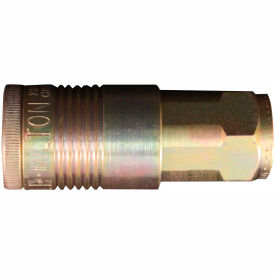 Milton Industrial Couplers & Plugs
Milton Industrial Couplers and Plugs Support Pneumatic Tools for Applications Including Automotive, Industrial, Manufacturing, and more.

Milton industrial couplers and plugs are made of brass and steel for durability and corrosion resistance. Units switch quickly between various air lines or tools for operation efficiency. Kits include a variety of couplers, plugs, and fittings with a basic flow size. Available styles are G-Style, G-Style Kit, H-Style, H-Style Kit, M-Style, M-Style Kit, M-Style Safety Kit, and M-Style Swivel Kit. Configurations range from 1/8" FNPT to 1/2" MNPT. CFMs are 35, 36, 40, 67, 98, and 99. Max PSI is 300. Dimensions vary per model.