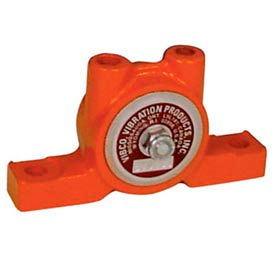 Vibco Single Mount Silent Pneumatic Turbine Vibrators
Vibco Single Mount Silent Pneumatic Turbine Vibrators Are Used For Use In Applications Requiring Quiet Operation.

Vibrators provide discreet silent operation. Aluminum housing provides long-lasting durability and strength. No lubrication needed for lasting continuous-duty operation. BVS Model Vibrators are extra heavy-duty and feature an exhaust port, making them used for any applications where oil exhaust would be objectionable. FBS Model Vibrators are made specifically as match plate vibrators for foundry applications. MHI Model Vibrators and MLT Model Vibrators are sanitary-grade vibrators used for food service applications. Extruded aluminum housings, stainless steel shafts and aircraft aluminum covers ensure long lasting durability. MLTSS Model Vibrators and MHISS Model Vibrators feature stainless steel housing for corrosion-free use. VS Model Vibrators are totally enclosed and feature a built-in muffler and heavy-duty turbine wheel, making it perfect for rough applications.