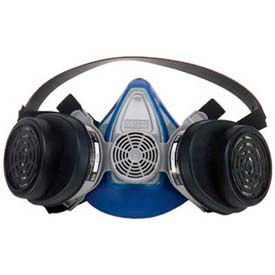 MSA Half Mask & Full Face Respirators
MSA Half Mask & Full Face Respirators Are Used For Construction Sites, Workshops And Paint Shops.

MSA Safety Works® Respirators are made of heavy duty plastic for long lasting durability. Ergonomic design is lightweight for greater comfort and support. Molded nose area ensures tight fit for added safety. Available types include Half Facepiece Respirator and Full Facepiece Respirator. Color is Blue or Black/Blue. Size is Medium. Package quantity is 1. Approved by NIOSH under the NIOSH 42 CFR 84 respirator certification regulations. Multi-Purpose Respirators are approved for use with ammonia, organic vapors, chlorine, hydrogen chloride, chlorine dioxide, sulfur dioxide, hydrogen sulfide(for escape only), formaldehyde, hydrogen fluoride and methylamine gases. Activated carbon cartridges and large surface area pre-filters for optimal filtering capability. Available colors are Black/Blue and Blue.