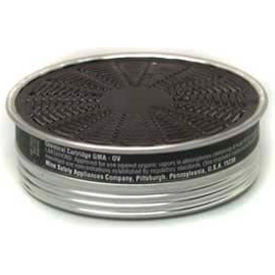 MSA Safety Respirator Filters And Cartridges
MSA Safety Respirator Filters and Cartridges Protect Against Hazardous Fumes, Gases, Dusts, and more.

Respirator filters and cartridges are lightweight, help resist harmful organic vapors, enhance respirator functionality, and are easy to install. Vented surfaces allow safe inhalation and an improved air quality. Low profile and compact designs permit a wider view while wearing glasses. Available types include Cartridge, Cartridge/Filter Combination, Filter, and Filter Cover. Available colors include Black, Green, Magenta, and more. Respirator and filter connection types are Bayonet, Filter Retainer Cover, and Threaded. Package quantities range from two-ten. Dimensions vary per model.