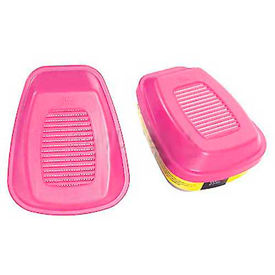 3M™ Respirator Filters & Cartridges
3M™ Respirator Filters & Cartridges Accommodate Applications Including Construction, Industrial, Manufacturing, And More.

3M™ respirator filters and retainers are made of high quality materials for long lasting durability and dependability. Filters and retainers prevent contaminant access and improve air quality for welding, sanding, painting, lacquering, and more. Lightweight, low profile design enhances field of view and increases comfort. Units accommodate most half and full face piece designs. Types are Filter, Organic Vapor, Organic Vapor/P100, and Retainer. Package quantities range from 2 to 30. NIOSH approved. Dimensions vary per model.