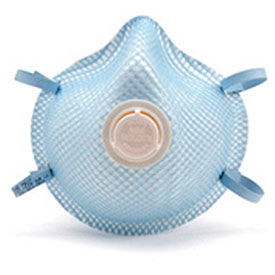 Moldex Disposable Respirators
Moldex® Disposable Respirators Protect Workers From Inhaling Dust and Debris in Workshops, Demolition Jobs And More.

Disposable respirators are constructed for comfortable and dependable use during sanding, grinding, sweeping, demolition or low level gaseous operations. Includes a pinch-free nose bridge that comfortably contours to the bridge of the nose, eliminating the discomfort and constant readjustment that is necessary with metal nosebands.Exclusive Dura-Mesh® shell protects the filter media so it stays cleaner looking longer. Plus, it resists collapsing in regular use and even under hot and humid conditions. Moldex® exclusive Ventex&3174; valve lets the hot air out easier, reduces breathing resistance, keeps workers cooler, and allows masks to last longer. A variety of strap styles to fit your individual work environments. These, and many other proprietary advantages create a family of Moldex® respirators that can be worn comfortably for longer periods, increasing compliance while decreasing cost. They meet heat and flame resistance in accordance with ANSI/ISEA 110-2003 SECTION 7.11.1. Resistance capabilities include Aerosols Free of Oil, Non-Oil Based Particles, Oil Particulates, Pollen, Welding Fumes, and Nuisance Acid Gases. Package quantities vary per model.