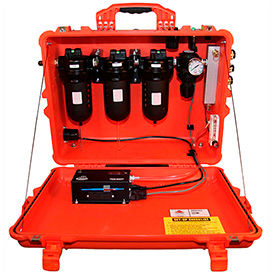 The Breather Box® Air Filtration System
The Breather Box® Air Filtration System Supports Air Powered Equipment For Hazardous Environments, Emergency Services, Safety, and more.
The Breather Box® air filtration system makes respiratory access easy with multiple ports serving up to 8 people simultaneously. The external warning lights and alarm will activate when pressure levels drop for added safety. This system includes filter change indicators, pressure regulators, and visual air flowmeters for convenient unit monitoring. The unit is case mounted for easy handling, access, and storage. Features an orange color finish for high visibility.
External warning lights and alarm
Case mounted
Available types are Alarm, Breathing Air Filter, CO Monitor, Grade-D Filtration, Intrinsically Safe CO Monitor, Remote Alarm, and more
Available fittings are 1/4" Hansen and 1/4" Schrader