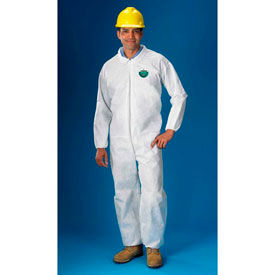 Lakeland Disposable Coveralls and Suits
Lakeland Disposable Coveralls and Suits Protect Workers from Light Chemical Splash or Flash Fire Situations.

Coveralls and Suits are made with varying layers of protective barrier for safety and protection around chemicals or potential flash fires. Disposable, chemical resistant, and flame retardant, Coveralls and Suits bar contaminating flammables like paint, oil, and grease, hazardous liquids, dry particulates, and other harmful contaminants from penetrating to inner clothing. Pyrolon Coverall has attached hood, elastic face, wrists and attached boots. Light chemical splash protection, self extinguishing coveralls will not melt or drip. Protective clothing in compliance with Section 5.1.3 End-User Requirements of NFPA 2113. Meets NFPA 2113 requirements. Suits are made with NFPA 1991 and CE type 1 requirements in tact and available in encapsulating and non-encapsulating configurations. Available in several styles and types.