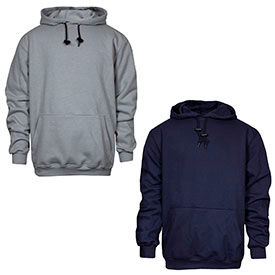 Flame Resistant Sweatshirts
Flame Resistant Sweatshirts Provide User Protection In Multiple Working Conditions Including Welding, Construction, Manufacturing, and Other Applications.

These sweatshirts are made of multiple fleece materials to improve temperature control in cold weather conditions. The flame resistant fabric prevents melting, dripping, or igniting ensuring flash fire and arc flash hazards. Optional hood, drawstring, and locks support standard hard hats for user convenience. Available in women's sizes. Ratings are 13 cal/cm2, 18 cal/cm2, 22 cal/cm2, 28 cal/cm2, and 43 cal/cm2. Colors are Gray and Navy. Available sizes range from S to 4X.