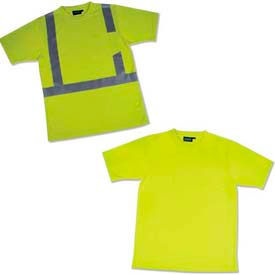 ANSI Class 2 - Hi-Visibility T-Shirts
ANSI Class 2 Hi-Visibility T-Shirts Improve Worker Visibility and Comfort for Construction Sites, Roadwork, Maintenance Crews, and more.

These class 2 hi-visibility t-shirts are designed to enhance visibility of fellow workers for jobsite safety. Select models feature Wicking fabric, which absorbs perspiration keeping you cool in hot temperatures. Polyester blend ensures long lasting use for the most demanding environments. Most shirts include reflective stripes to increase nighttime visibility for roadwork and highway personnel. Pockets available on some models. Shirt materials include Polyester Birdseye Mesh, ANSI Wicking Birdseye Polyester, Polyester Knit, and more. Styles include Aware Wear Hi-Vis Short Sleeve T-Shirt, Class 2 Hi-Vis T-Shirt w/Reflective Classic Black Bottom T-Shirt, Classic Standard Birdseye Wicking T-Shirt w/Segmented Tape, and more. Available colors include Hi-Vis Lime/Black, Hi-Vis Orange, and more. Sizes range from S to 3XL Tall to 5 XL.