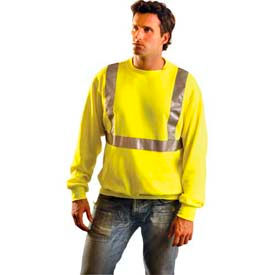 ANSI Class 2 - Hi-Visibility Sweatshirts
ANSI Class 2 High Visibility Sweatshirts Are Used For Weather Protection On Cold Weather Commercial And Industrial Work Sites.

ANSI Class 2 High Visibility Sweatshirts are constructed of 50/50 ANSI polyester and cotton for improved comfort, support and long-lasting durability. Sweatshirts feature a durable hood to keep head warm when temperature drops. Sweatshirts feature 2-inch reflective strips going horizontally and vertically for visibility and increased safety. All sweatshirts are weather resistant and improve productivity at cold work sites. Sweatshirts are available in Hi-Vis Zip Sweatshirt, Lightweight Hoodie, Sweatshirts, and Zip Down Lightweight Hoodie. Available in sizes from Small or Medium to 5XL. Available colors are Hi-Viz Yellow, Hi-Viz Lime/Yellow and Black/Orange..