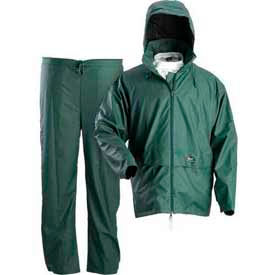 2-Piece and 3-Piece Rainsuit Sets
2-Piece And 3-Piece Rainsuit Sets Provide Head-To-Foot Protection In Wet Work Environments And Recreational Activities.

2-Piece And 3-piece Rainsuit sets provide waterproof protection during outdoor work, sporting events, and other work or play activities.2-Piece And 3-Piece Rainsuit feature pockets, snaps, storm flaps, detachable hood, adjustable draw cord waist and hem snaps at ankle to allow for efficient fit. Colors and sizes vary per model.