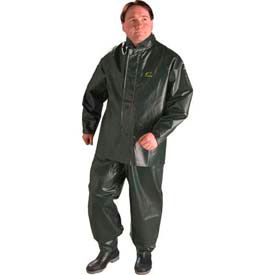 Rainwear Pants and Overalls
Rainwear Pants And Overalls Are Used For Use In Chemical Plants, Mining Facilities, Sanitation Services, Construction Sites And Other Environmentally Sensitive Applications.

Rainwear Pants And Overalls are made of PVC, polyester, polyurethane and nylon combinations for long lasting durability. Protective clothing provides waterproof protection during outdoor work, sporting events, and other work or recreational activities. Reflector stripes available on some models for added safety and visibility. Types are Rain Overalls, Rain Pants and Waterproof Bibs. Available sizes range from S to 6X. Inseams range from 20 to 33-1/2 inches. Available in 11 colors including Black, Blue, Green, Fluorescent Orange, Hi-Vis Lime, Hi-Vis Yellow and Yellow. Variety of styles available to meet specific job needs or requirements.