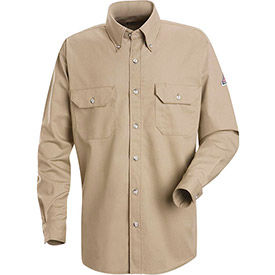 Bulwark® Flame Resistant Work Shirts
Bulwark® Flame Resistant Work Shirts Provide Protection For Commercial And Industrial Worksites Or Other Activities With Exposure To Heat And Flame.

Bulwark® Flame Resistant Work Shirts are made of Modacrylic/Lyocell/Aramid blend to provide worker and workplace safety and long lasting durability. Available styles include Concealed Gripper Pocketless Shirt, Dress Uniform Shirt, Hi-Visibility Work Shirt, Uniform Shirt, Denim Dress Shirt, Snap-Front Uniform Shirt, and Uniform Shirt - 4.5 oz. and 5 oz. Shirts feature button-down collar, topstitched cuffs w/button close, tailored sleeve placket and full side seam gusset. Men's and Women's sizes available in S-3XL. Lengths are Long and Regular. Available colors are Chambray, Gray, Gulf Blue, Khaki, Kight Blue, Light Blue Denim, Navy, Orange, Royal Blue, Silver/Gray, Tan, White/Blue Stripe and Yellow/Green. Meets NFPA 2112 Standard On Flame-Resistant Garments For Protection Of Industrial Personnel Against Flash Fire, and protective clothing and live working clothing requirements.