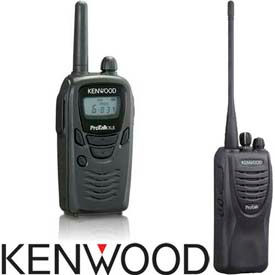 Kenwood Professional Two Way Radios
Kenwood Professional Two Way Radios Allow Convenient Communication for Security, Emergency Services, Construction Sites, and more.

Kenwood professional two way radios are made of thermoplastic for durability and impact resistance. Radios are designed to increase coverage area, reduce noise for sound clarity, and improve secured voice. Compact design allows convenient handling, storage, and transport. Includes a rechargeable battery, belt clip, charging cup, and removable antenna. Available types are Analog and Digital. Ranges cover from 220,000 sq. ft./ 13 Floors up to 370,000 sq. ft. Wattages are 1.5, 2, and 5. Channels are 4, 6, and 16. Frequencies are UHF and VHF. Dimensions vary per model.