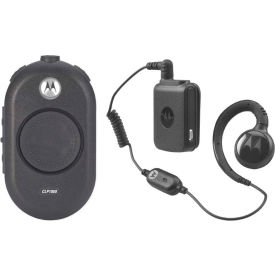 Motorola CLP Series™ On-Site Two-Way Radios
Motorola CLP Series™ On-Site Two-Way Radios Allow Long Distance Communication For Construction Sites, Emergency Services, and more.

Two-Way radios feature an internal non-protrusion antenna for a sleek, modern design. Coverage areas are 100,000 sq. ft to 250,000 sq. ft. w/Repeater. Thin, lightweight radios are easily carried and accessed. Repeater provides extended range. 1, 4, 6, or 8 channels with up to 219 privacy codes, channel color coding and voice announcement, depending on the model. Customizable face plate, ear-piece headset, belt clip, computer software and secure fit charging system provide user comfort and convenience. Select models feature an antimicrobial housing and a radio battery life of up to 18 hours when using a standard battery. Some on-site Two-Way Radios include 1130 mAh Lithium Ion Rechargeable Battery, 2.5 Hour Drop-In Charging Tray w/AC Power Adapter. Optional Accessories (sold separately) include chargers, battery kits and earpieces. Select models include a Wireless Bluetooth® Audio Headset. Compatible battery doors are also available. 1 Year Limited Warranty.