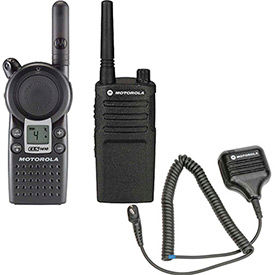 Motorola Professional Two Way Radios
Motorola Professional Two Way Radios Allow Convenient Communication For Applications Including Customer Service, Hospitality, Security, and more.

Motorola professional two way radios provide optimal audio quality, speaker magnetic field reduction, and wind-noise reduction throughout communication. Compact, lightweight design allows convenient unit handling and storage. Extended battery life improves operation time and energy efficiency. Includes rechargeable lithium ion battery, drop-in tray charger with power adapter, and spring belt clip. Most models meet military specifications for shock and extreme weather resistance. Units feature polycarbonate layer construction for durability and impact resistance. Radios Models include BPR40 Series, CLS Series, CP185 Series, CP200D, DLR Series, DTR Series, EVX Series, RDX Series, RM Series, SL300 Series, and VX Series. Ranges span from 200,000 Sq. Ft/15 Floors to 400,000 Sq. Ft/30 Floors. Radio types are Analog, Analog w/ Display, and Digital. Wattage and additional specifications vary per model.