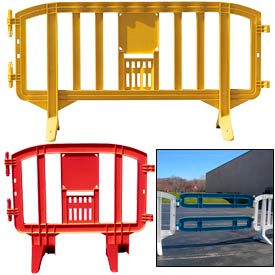 Interlocking Plastic Barricade
Interlocking Plastic Barricades Have Interlocking Ends For Tool-Free Barrier Expansion And Allow Swing-Action For Flexible Configurations.

These durable polypropylene plastic barricades are lightweight for easy handling and storage. Plastic safety barrier won't rust, chip or dent. One-piece interlocking unit has no weak points. Safety barricades are designed for indoor and environmentally safe outdoor use. Molded, wide-angle feet provide stability. ADA Barricade measures 72"L.MOVIT®Standard Barricade measures 78"L. MINIT® Barricade measures 49-1/2 L. Plastic Extension for Minit® and Movit® barricades offers a cost effective extension to barricades. Use 2 extensions between 2 barricades. Measures 61 L x 10-2/5 H.